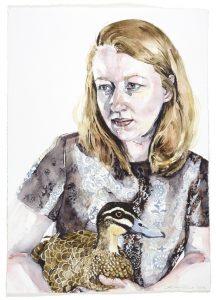 Born in Darlinghurst and raised in Drummoyne, both inner suburbs of Sydney, Denise Faulkner was a real city girl… or so she thought. She completed a Diploma of Fine Arts at the National Art School in Darlinghurst, Sydney in 1996, and then a Degree from the same college a few years later. After a few group shows with friends she turned her back on being a professional artist, preferring to eat, and so got a job in the Gallery Shop at the Art Gallery of New South Wales. Starting as a lowly casual she rose to the dizzying heights of Book Buyer, thereby combining her two great loves, art and books. Whilst there she did many various part time and evening courses from Psychology to Jewellery Making and Creative Writing in a bid to keep her mind active.
Recently, herself, her partner and their cat took the bold plunge and moved permanently to their weekender situated on a bush block with a great big mountain in the middle,  just outside of Mudgee NSW, a long way removed from the city life she was used to. She spends her days watching birds, painting, growing vegetables, taking the cat on bush walks (which the cat loves!), working part time and enjoying life. She is still adapting to the peace, the tranquillity, the stars, the birds, the wildlife, and of course, the inspiration, but loving every minute of it.
SOLO SHOWS
2024 Reimagined Spode Spode Museum, Stoke-on-Trent UK (dates to be confirmed)
May 2022 From Little Things Michael Reid Southern Highlands NSW
November 2021 No Place Like Home Michael Reid Murrurundi NSW
April 2021 Quixotic and Exotic Michael Reid Sydney NSW
February 2020 China Cabinet of Curiosities Michael Reid Sydney NSW
April / May 2019 "New and Recent Works" Milk Factory Gallery Bowral
February 2019 "Ginger and Honey" Michael Reid Sydney
November 2018 "Garden Party" Michael Reid at Murrurundi
November 2017 "Outside In" Artisan on Lewis Mudgee
May / June 2017 "Curiouser and Curiouser" Michael Reid at Murrurundi
August / September 2016 "Ten Impossible Things Before Tea" Michael Reid at Murrurundi
March 2016 "Teatray in the Sky" Artisan on Lewis Mudgee
March 2015 "Bird's Eye View" Artisan on Lewis Mudgee
GROUP SHOWS
October 2023 to December 2023 STILL: National Still Life Award Yarrila Arts and Museum Coffs Harbour
November 2022 to March 2023 MAP Portrait Prize Mudgee Arts Precinct
September 2022 Sydney Contemporary with Michael Reid Murrurundi at Carriageworks
March 2022 Country Style Michael Reid Murrurundi
October 2021 Murra Month Michael Reid Murrurundi NSW
May to June 2021 The Twitchers Rosby Gallery Mudgee NSW
March 2021 The Australian Country Table Michael Reid Murrurundi NSW
September 2020 Country Meets Town Michael Reid Murrurundi in Woollahra Sydney NSW
March 2020 The Country Interior Michael Reid Murrurundi NSW
October 2019 The Australian Interior Michael Reid Berlin Germany
December 2018 – March 2019 Summer Show Milk Factory Gallery, Bowral NSW
November 2018 "Huntington Music Festival Art Exhibition" Mudgee
August 2018 "A Bookish Type" Artisan on Lewis Mudgee
April 2018 "Still Life in the Landscape" The Milk Factory Gallery Bowral
May 2017 to January 2018 "Art Now with Text Classics" Travelling Exhibition, The Stables Mudgee, Pandora Gallery Coolah, Western Plains Cultural Centre Dubbo
February / March 2017 "You Me and a Cup of Tea" Bundaberg Regional Gallery Bundaberg
May 2015 "Plein Air Art Exhibition" Holtermann Museum Gulgong
June 2014 "Mudgee Arts Country Living" Stables Gallery Mudgee
COMPETITIONS
Finalist in the STILL: National Portrait Prize 2023
Finalist in the MAP Portrait Prize 2022
EDUCATION
Degree in Fine Arts (Bridging Course) National Art School Darlinghurst Commenced February 2000-Completed June 2000
Major in Photography
Diploma of Fine Arts National Art School Darlinghurst Commenced February 1994-Completed November 1996 Major in Photography Minor in Painting
Winner of Most Outstanding Photographer 1996
COLLECTIONS
Her works are in private collections in the USA, UK, Germany, Hong Kong, Cuba and Australia wide.
Two of her works are in the permanent collection at Bundaberg Regional Gallery QLD.
In 2020 she was commissioned to design a wallpaper which was to be on permanent display at Adderton: house and heart of mercy Brisbane QLD until it unfortunately closed it's doors in 2021.