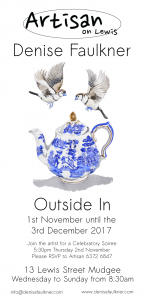 Wow! What a truly amazing year and a half it has been! Ever since my birdies decided to invited themselves to tea in my last solo show at Artisan on Lewis in March 2016, they have been invading my imaginary home ever since, with two solo shows at the incredibly prestigious Michael Reid Murrurundi and as part of a tea themed group show at Bundaberg Regional Art Gallery, with the gallery purchasing two for their permanent collection!
My birdies have made their way all round Australia, with one even flying off to Berlin! They have been in Country Style magazine and even made their way to the home of the inimitable Maggie T! I am unbelievably proud of my birdies, and astonished at their success and although I have been painting solidly for well over a year now (as well as working part time) I thought I should end this crazy run of exhibitions as I began, at the truly wonderful Artisan on Lewis… So for all my loyal locals, this exhibition is for you, before I have a much needed break, complete a few commissions and then start working on my next exhibition for Michael Reid Murrurundi for next year.
This time it is not just the birdies who are coming out to play, some of the other lovely local wildlife have decided the join the party. There will be gliders, goannas and of course the birdies. They will be playing with tea sets, dancing on doilies and having a lovely mischievous time in my imaginary home.
If you find yourself in Mudgee on the evening of the 2nd of November, pop in to Artisan on Lewis where I shall be celebrating a truly wonderful creative year and a half! RSVP to 02 6372 6847.