Earlier this year I had an unexpected trip to hospital when a cat bite made my whole had swell up. Rather than just getting some antibiotics which I thought would be the outcome I ended up being sent from Mudgee Hospital to Dubbo Hospital with suspected cellulitis. By the time I made it through the second hospital triage it was 11pm on a busy Saturday night, so the hospital found me accommodation and then I was back there first thing Sunday morning getting my wrist cut open and the wound cleaned out. Because it was right over my right wrist joint I had to wear a half cast for a couple of weeks until the stitches came out. I went from painting every day to not being able to cut up my own food. I was calling it my Frankenhand as it didn't work the way I expected and to be honest, didn't really feel like it was mine anymore. It has taken quite a while to be able to get back into painting properly… with the odd twinge here and there.
This self portrait is me trying out my hand and giving it something challenging to do. There are many layers to this piece, the early layers are wavering and awkward, and as my hand got stronger the later layers are bolder and have more control… and slowly I started to emerge out of the layers of watercolour…
The "extra" arms are another aspect of the self portrait. As a watercolourist I usually work flat on my table, so my left arm usually rests across the bottom of whatever I am working on. The right hand is actively painting my portrait. The background is a Jacobean inspired wallpaper with a few local twists, of a spider orchid and a red browed finch.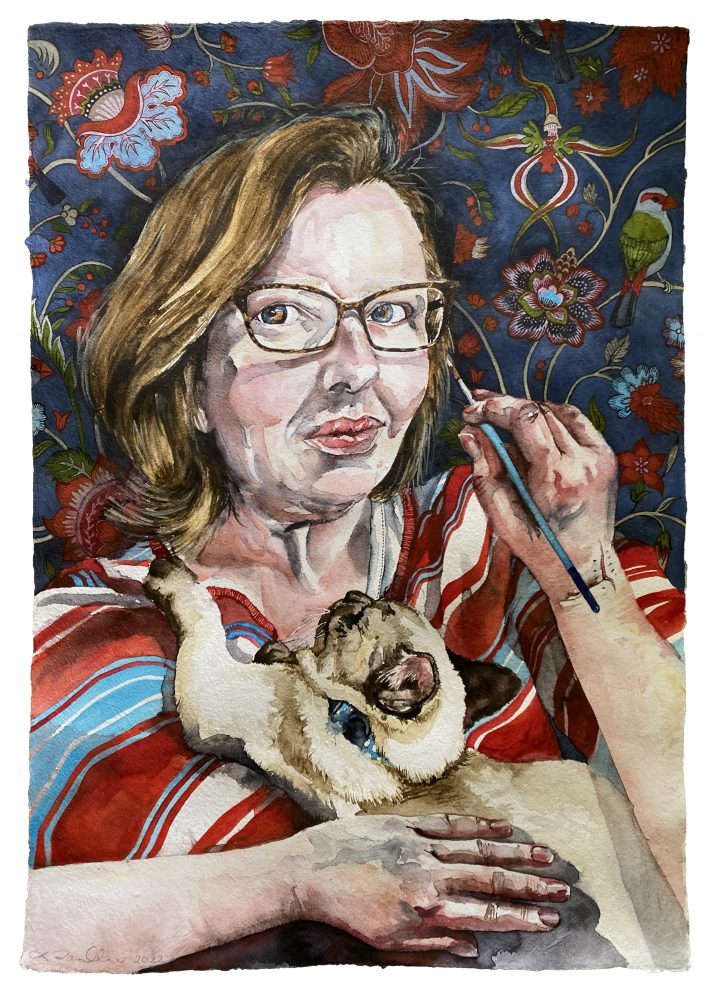 Teaching Myself to Paint Again with Another's Hand 2022
Watercolour on handmade 100% cotton rag paper
62cm x 46cm