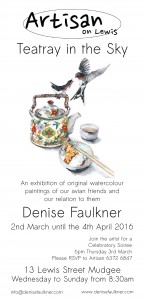 Late last year the wonderful people at Artisan on Lewis invited me to have another solo show in their fine establishment, how could I refuse. For a cafe/art gallery they represent some of the finer things in Mudgee, seasonal local and absolutely delicious food (Penny's homemade gnocchi is to die for) not to mention  great coffee AND fine art. How can you go wrong?
So while everyone was winding down and having a lovely summer holiday, I have been very busy ensuring I have enough work for this new exhibition as well as helping to set up a group show as part of the Gulgong Folk Festival over December/January.
This time I am doing something a bit different with my birds (after all, no one wants a facsimile of my last show.) This time I have something to say about our relationship with the birds which I am painting. There will be two series of paintings, the mug shots and the not-so still lifes.
Birds go about doing bird things, but when this infringes on us, even if its in the slightest way, we attach some sort of criminality to their behaviour. So because of this trait of ours there will be a series of 'mug shots', close up portraits which frame the birds with a crime we humans feel they have committed… and really, all they are doing is being themselves.
The exhibition will also feature works which put the bird into a still life situation, with each painting representing something about the bird and ourselves. Some will be very obvious, some rather obscure. Whether it be an interesting fact about that particular bird, such as the male superb wren is known to present his latest love interest a posy of yellow petals, or the red wattlebird drinking out of the waratah in a vase, both evolved together to exclude all others. We think these flowers are beautiful and bring them inside, but they never would exist if it wasn't for the bird they are designed to feed. Birds even modify our language – roselle fruits have become rosella fruits in Australia as that is what we associate with the colour…
Whatever the case this will certainly be my most colourful and intricate exhibition to date! And the title? Well, that comes courtesy of the Mad Hatter… actually it refers to a bat, but we shall just ignore that bit shall we…
The exhibition will run from Wednesday the 2nd of March until Monday the 4th of April 2016, with a celebratory soiree set for 6pm the 4th March 2016.